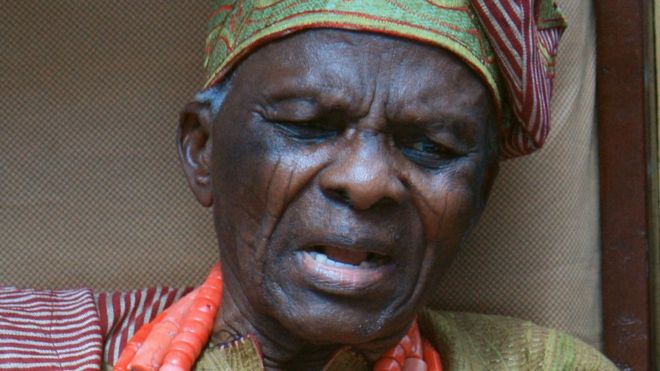 The Olubadan of Ibadan, Oba Samuel Odulana Odugade 1, is dead. The monarch was 101.
The Olubadan lost consciousness before he eventually passed on last night, insuranceadvicenigeria.com gathered.
Details about Oba Odulana's death were sketchy but he had been indisposed for some time on account of old age.
Sources close to the family said the body of the late monarch had been taken to a morgue.
His death will throw the city into mourning after the brouhaha that followed the promotion of nine high chiefs on January 1.
Oba Odulana mounted the throne in 2007 as the 39th Olubadan. He was the 17th Olubadan since the title was elevated from Baale Ibadan to the Olubadan in 1930.
The first traditional ruler to bear the new title was Oba Okunola Abass who reigned between 1930 and 1946.
Next in line to the throne is the Balogun of Ibadan, High Chief Saliu A.O. Adetunji.
He ascended the throne following the demise of Oba Yunusa Ogundipe Arapasowu I, who ruled from 1999 to 2007.
The late Olubadan hailed from the Ladunni Compound in Oja Igbo within the Ibadan metropolis. He was born at Igbo-Elerin, Lagelu Local Government Area on April 14, 1914, to Pa Odulana Ayinla.
He began his elementary education at Saint Andrew's School, Bamigbola, in Lagelu Local Government Area in January, 1922 before obtaining a transfer to Saint Peter's School, Aremo in 1929.
In December 1936, the late monarch completed his middle school education at Mapo Central School. He developed his education through correspondence courses.
He had a stint with the United African Company (UAC) as a produce clerk, before taking up a teaching appointment at the Church Missionary Society (CMS) Elementary School, Jago, Ona-Ara Local Government Area in 1938.
Oba Odugade I also taught in several schools between 1939 and 1942.
However, the late monarch willingly vacated the teaching job for a more challenging duty as an Army officer during the 1939 Second World War.
After the end of the war in 1945, he was saddled with the responsibility to demobilise returning soldiers in Lagos, a role which earned him an exemplary character award of the Army 4th Brigade.
He was subsequently appointed to man the Colonial Office Education Department in 1946.
He voluntarily retired from the civil service to embrace politics. The late Oba Odugade I aided the establishment of both primary and secondary schools in various parts of the old Western Region.
In the 1959 pre-independence federal elections, he contested to represent his constituency as a member of the House of Representatives.
His political career ended with Nigeria's first military coup on January 15, 1966 after which he went into philanthropy and community mobilisation.
Source: nigerianeye