Nigeria's central bank sold 53.08 billion naira ($266.6 million) worth of treasury bills in a bid to mop up excess liquidity, dealers said, as the currency weakened on stronger demand from importers.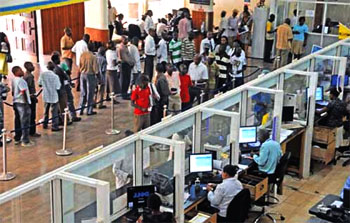 The bank issued the 275-day open market operations (OMO) bills at 13.50 percent, they said.
The interbank lending rate traded at 6 percent for overnight placement, almost unchanged from previous day's 5.83 percent.
The interbank market almost froze after authorities ordered banks to transfer all government revenues to its Treasury Single Account (TSA) with the central bank, part of an anti-corruption campaign.
To ease liquidity shortages, the central bank had to cut banks' cash reserve ratio to 25 percent.
"The market is active now because of higher liquidity from budget allocations and repaid matured treasury bills," another dealer said.
The naira weakened against the dollar on the parallel market to 224.5 to the dollar from 223 a dollar the previous day on strong demand from importers stocking up ahead of forthcoming Christmas sales.
"We are seeing a renewed pressure on the naira from some importers stocking ahead for the coming Christmas sales and some people converting their naira to dollar," Aminu Gwadabe president of Bureau de Change operators, said.
Nigerian importers have struggled to obtain dollars as the central bank has limited imports to offset a collapse in oil revenues, the economic lifeline of Africa's most populous country and biggest energy producer.
Gwadabe said speculation that government plans to change the colour of banknotes to stop forgeries could be another reason for the fresh pressure on the local currency.
The naira traded at 197 naira to the dollar on the official interbank market, unchanged since February. ($1 = 198.8000 naira)
Source: Reuters