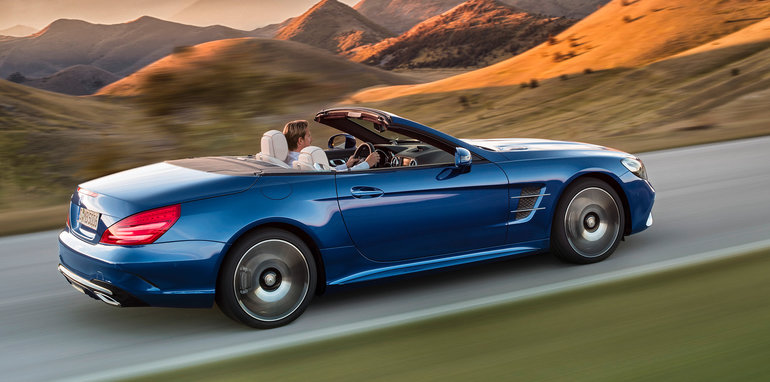 Mercedes has revealed a new version of its SL convertible, which will be available from April 2016. The roof of the 2016 Mercedes SL can be retracted on the move.
An update of the current car rather than an all-new model, it looks far more aggressive thanks to enlarged air intakes, a more shapely front grille and two "power domes" on the bonnet.
LED headlights have also been added, while the SL's folding hard-top roof can now be opened or closed while the car is being driven at speeds of up to 25mph.
Inside, the range of ambient lighting colours has been increased, with those lights projecting the Mercedes logo, plus the storage compartment between the seats now features two USB sockets.
Apple's CarPlay system is available as an option, making it easy to connect your iPhone to the SL and use voice control to receive and send text messages and emails, as well as access music, contacts and apps on your phone.
The list of options also includes Mercedes' Distance Pilot and Steering Pilot systems, which combine to keep the SL a safe distance from the vehicle in front and in the centre of the lane, while the latter system even helps steer it through bends.
Another high-tech system available is Active Body Control, a suspension system which not only reduces body roll in corners, but also reduces the effects of lateral pitching on occupants under hard acceleration, meaning you won't make your passenger car sick when you put your foot down.
As before, SL buyers can choose from six-, eight- and 12-cylinder engines, and there are two high-performance AMG models: the 577bhp AMG 63 and the 621bhp AMG 65, both of which can accelerate from 0-62mph in about four seconds.
Prices will be confirmed closer to the car going on sale, but they are unlikely to change significantly from those of today's SL, which starts at £73,575 and runs to £173,360.
Source: telegraph.co.uk