Republican presidential candidate Donald Trump has been criticized for his unguarded statement, during one of its presidential campaign rants after revealing his plans to build border walls to keep out immigrants.
Meanwhile Pope Francis has come out to tackle him on this unguarded statement, the Pope said "Anyone, whoever he is, who only wants to build walls and not bridges is not a Christian.
House hopefuls Ted Cruz and Marco Rubio unleashed a barrage of attacks against Donald Trump during Thursday's raucous Republican debate as they sought to halt the billionaire frontrunner's seemingly relentless march to the party's nomination.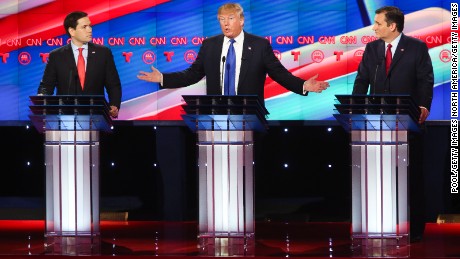 The three candidates exchanged some of the most heated and acerbic remarks of the entire 2016 primary cycle. They often talked over one another as they battled for supremacy in the final on-stage showdown before the "Super Tuesday" series of state wide votes on March 1.
Cruz and Rubio mounted a furious assault against Trump, blasting the frontrunner for hiring foreigners and challenging his commitment to conservative principles, but Trump largely stood his ground and swatted away the attacks.
Rubio, seen by many as the primary mainstream challenger, appeared loose and aggressive against Trump. While he has hesitated to attack Trump directly on the campaign trail, Rubio seemed eager to engage and criticize his rival during the debate in Houston.
Source: The Guardian